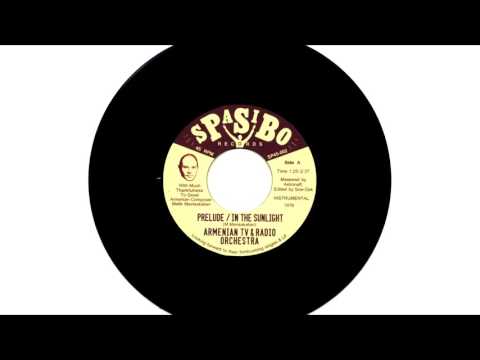 A small Russian label Spasibo Records just has released a quite interesting 7-inch with archive instrumental tracks of armenian jazz-pop orchestra led by Melik Mavisakalian. You can support release of ongoing vinyl records buying this one.
Composer, arranger and conductor Melik Mavisakalian finished conservatoire in 1961 and became a director of big TV and radio orchestra of Armenia in 1972. As some of you soviet diggers know, his orchestra have few LPs on Melodiya and every's arrangement is a blast!
Where to buy:
https://vk.com/spasiborecords
https://facebook.com/spasiborec
https://discogs.com/sell/release/8269377
A mix recorded from vinyl releases by modern Russian funk bands. Deep funk, jazz-funk and space funk killers from the men who really know what the «groove» word means. No shallow acid jazz tunes, only rough stuff here! Nov 2015.
WAKE & BAKE — The first ever Russian raw funk band formed in Saint Petersburg in 2006. Disbanded after releasing two superb 45's.
GREAT REVIVERS — Russian band from Saint Petersburg formed by ex-members of Wake&Bake and The Reggaenauts. Loving their production.
SOUL SURFERS — Russian soul/funk band from Nizhny Novgorod. Released 20+ vinyls already. They used to collaborate with many famous musicians of the soul/funk world.
ESTRADA ORCHESTRA — A jazz-funk band of five Russians from Estonia, Tallinn. One self-released LP in their portfolio.
MISHA PANFILOV SOUND COMBO — An awesome solo project of a member of Estrada Orchestra. One 7» released recently, more to come.
★ ★ ★
Данный микс записан целиком с виниловых пластинок современных русских фанк-групп, которых (пластинок) уродилось в этом году рекордное количество. Никакого эйсид-джазика — только жёсткий аутентичный deep/jazz/space-funk от людей воспитанных на правильном виниле (и обожающих на этом виниле издаваться).
WAKE & BAKE — Первая дипфанковая группа России, образованная в СПБ году в 2006. Первая 7» записана минимальным составом, на второй были уже добавлены духовые и крутая вокалистка. Распались.
GREAT REVIVERS — Образовались в СПБ из участников Wake&Bake и The Reggaenauts. Выпустили пачку синглов и в этом году — LP без проходных номеров.
SOUL SURFERS — Парни из Нижнего Новгорода за 5 лет выпустили дикое количество синглов и только что — гигант со множеством коллабораций с soul/funk музыкантами.
ESTRADA ORCHESTRA — Ансамбль из пятерых русских парней из Таллина; играют дажз-фанк, афробит… В этом году сами выпустили диск-гигант. На обложке, кстати, они.
MISHA PANFILOV SOUND COMBO — Студийный сольный проект одного из участников «эстрадного оркестра» — дикий спэйс-фанк написанный и записанный крайне толково. Только что вышла семёрка, следите за продолжением.
★ ★ ★
Intro — Intro (Ubiquity)
Soul Surfers — Get It Right Part #4 (FNR)
Soul Surfers — Doin' The Rasklad (Ubiquity)
Great Revivers — Drunken Master (FNR)
Wake&Bake! — PartyStarter (Our Label)
Soul Surfers — Raw (Ubiquity)
Great Revivers — Hard Way To Go (FNR)
Misha Panfilov Sound Combo — Offbeat Comet (FNR)
Misha Panfilov Sound Combo — Planetarium (FNR)
Wake&Bake! — Funky Blue Beard (Tramp)
Wake&Bake! — Funkie Pie (Tramp)
Estrada Orchestra — I Took Too Much (Self-Released)
Estrada Orchestra — Skating With Badamas (Self-Released)
Analog Attention — Post Factum (TRWL)
Download: http://www.mediafire.com/download/6zmhqa42vhocg6i/Ex-Soviet-Groove-Mix.zip
After releasing about twenty 45's, Russian raw funk band «Soul Surfers» from Nizhniy Novgorod just has released their first LP at American Ubiquity Records. It features some artists so we have some vocal tracks which makes it more diverse. The band is led by a soviet vinyl collector Igor Zhukovsky aka ELN.
После выпуска двух десятков миньонов, нижегородцы «Soul Surfers» записали диск-гигант на Ubiquity. Уже в продаже.
Buy hardcopy: https://soulsurfersubiq.bandcamp.com/album/soul-rock
Itunes: http://apple.co/1MIPKqn
October 2014, Estonian label Hyper Records has reissued all three LPs of the classy jazz band Collage. They sells each vinyl for 18 EUR which is a very good deal as you're getting three mint LPs by the price of one used. It's available from their discogs account:
http://www.discogs.com/label/56004-hyperrecords
Эстонцы переиздали на виниле дискографию отличного джаз-бэнда «Коллаж». Купить можно по ссылке выше, предложение выгодное.
Here's new selection of soviet groovy jazz orchestra tunes. Enjoy! Share with your grandpa! Tags: soviet groove soviet funk soviet jazz rare © 2014 Bazil
23th April 2014 — 50 years anniversary of soviet Melodiya label. Dug my shelves today to get nice covers and interesting music. Enjoy! © Bazil
Друзья, 23 апреля 2014 года исполнилось 50 лет фирме «Мелодия», в связи с чем решил покопаться на полках с советскими пластинками. Для разнообразия, в первую очередь, задался целью выбрать конверты с фотографиями ансамблей. А уже потом с этих пластинок выбрал наиболее интересные музыкальные фрагменты. Вот и целый день прошел… Результат отправляется в интернет для всех любителей музыки, не ставил целью сыграть только soviet groove, хотя невольно получилось что-то типа того и даже больше! Вобщем, с юбилеем фирма Мелодия! © Bazil
A1. Живая вода (Living water)
A2. Улыбнулась ты (You smiled)
B1. Если уйдет любовь (If love is gone)
smerichka-ep-77-sampler.mp3
Download: DL FLAC 64 MB: mega.co.nz
https://facebook.com/sovietgroove
https://vk.com/sovietgroovefilmproject
There is a film in production. It's driven by Louis Beaudemont from France who lives in Saint Petersburg for some time already.
A1. Не верю снам
A2. Первый взгляд

B1. Потому, что ты любишь меня
B2. Всадник
DL flac 74 MB: mega.co.nz
Quite a worth mix made of instrumental parts of different soviet tracks. Recorded by Moscow DJ Yan Shrimp. Available at his site:
http://yantheshrimp.com/music/soviet-groove-instrumental.html